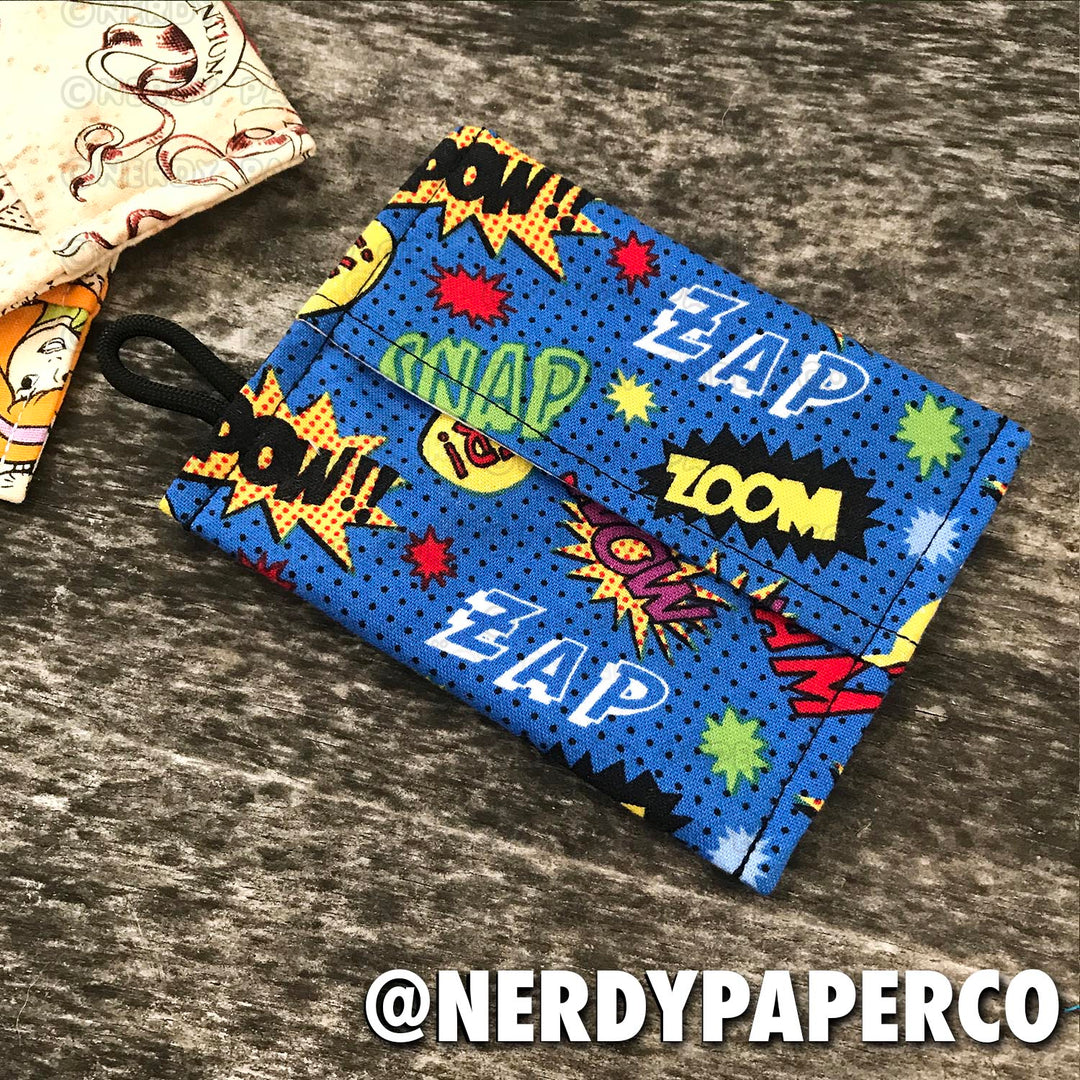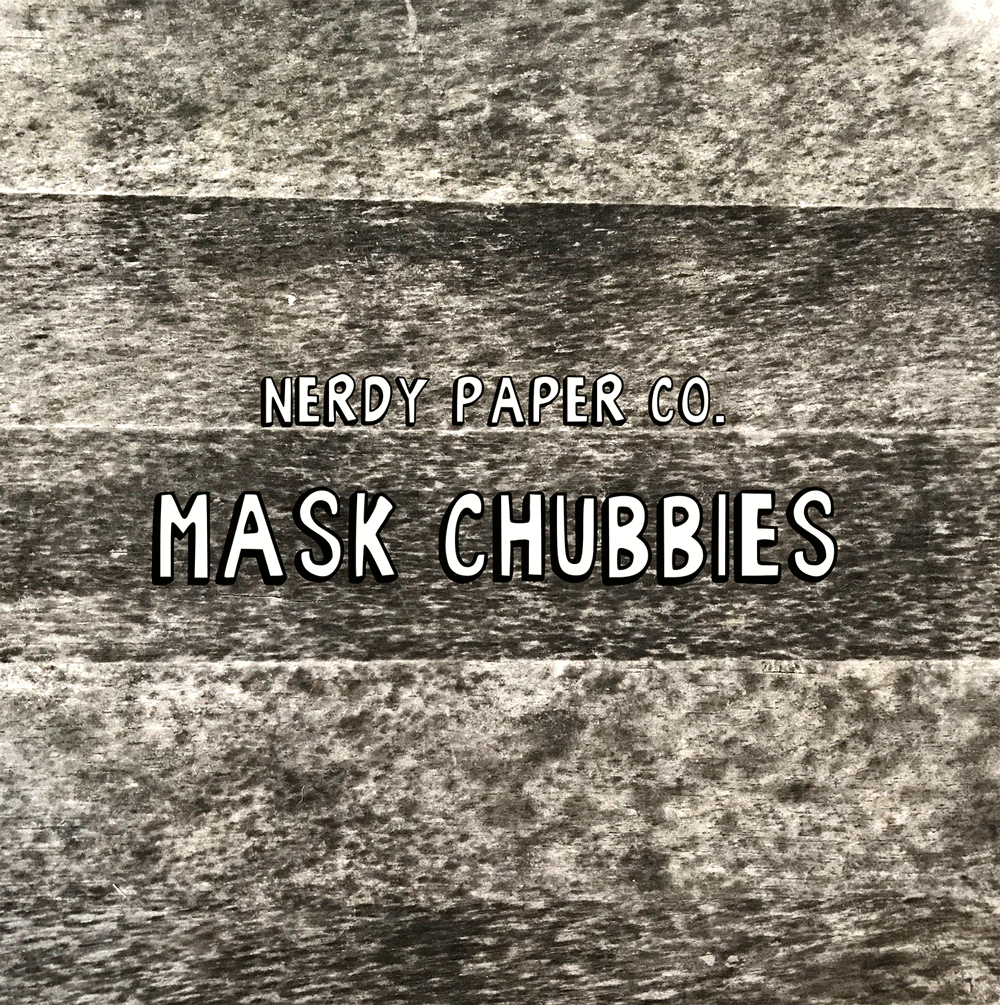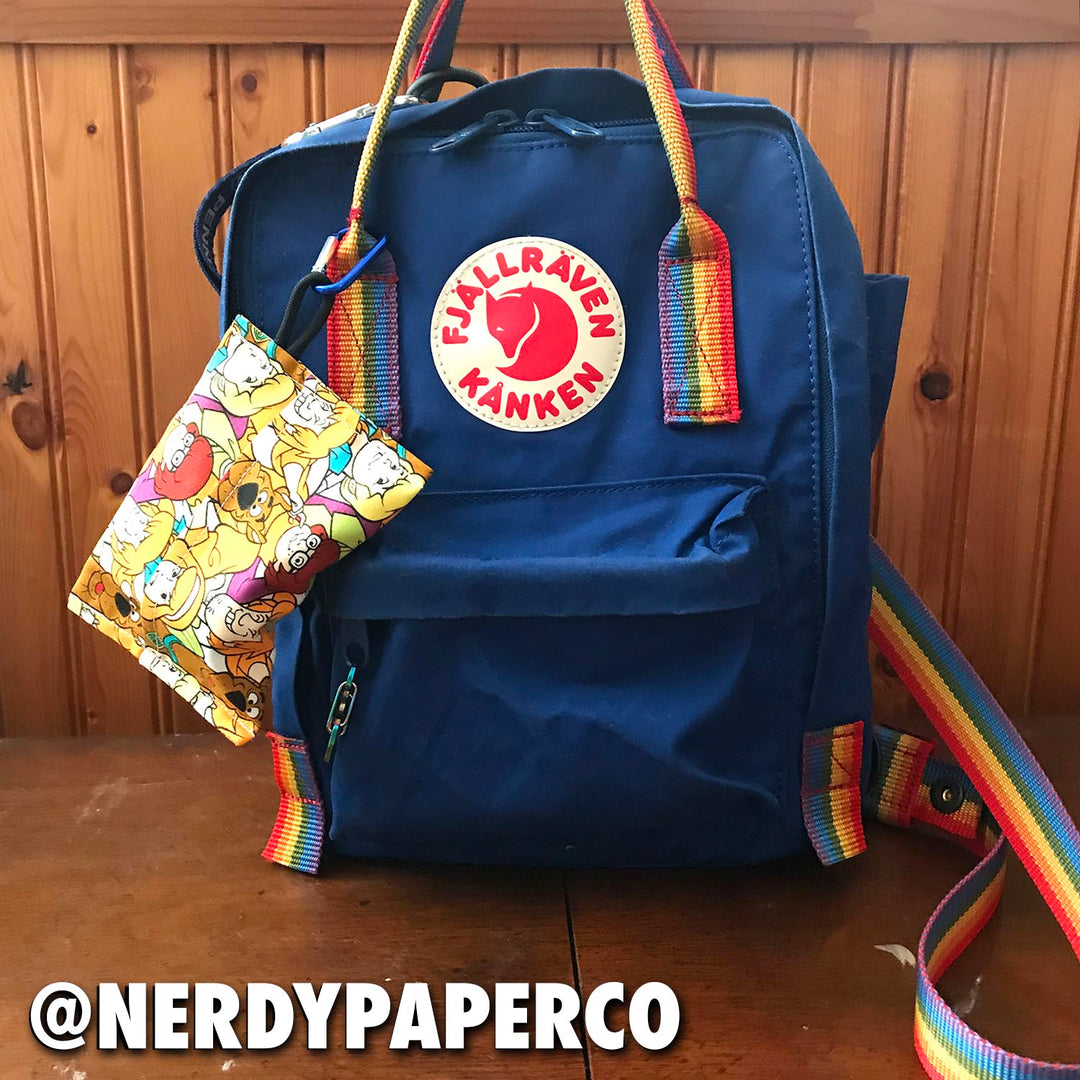 MASK CHUBBIES - COMIC CRAZE | CLOTH MASK POUCH
---
Low stock - 7 items left

Inventory on the way
Introducing mask chubbies!
I'm sure it's happened, you head out the door and realize you forgot your mask.  Well.. with my new mask chubbies, you'll never be without your mask again!
With its compact size, these mask pouches can easily be clipped onto a keychain, or carabiner (not included)!   And since there aren't any metal parts to it, you can easily toss it in the wash!
As shown in the video, just fold your mask into thirds and pop it into a mask chubbie, and you're good to go!
Specs: 
Self and liner: 100% woven cotton

Handwash warm or machine wash gentle cycle, warm/hot, hang dry. 

Please wash before use

Print placement varies
Due to the nature of this item, mask chubbies are non-refundable. 
ººººººººººººººººººººººººººººººººººººººººººººººººººººººººººººººººººººººººººººººººººººººººº
Cloth masks are becoming a norm here in the States, be mindful of others' health and wear a protective cloth mask. 
As stated by the cdc, a  protective cloth mask or covering should be worn in public/when it's necessary to go out (ex. grocery store or the pharmacy), where social distancing is difficult to maintain).  They are not intended to be used or to replace medical masks. Medical grade masks (such as n95 and surgical masks) are critical supplies that should be reserved for healtcare workers and other medical first responders. 
Extremely important note:
-These masks are not intended to be used as medical masks.  They are not medical grade.
-Homemade masks DO NOT REPLACE N95 masks or surgical masks. They are a "better than nothing" stand-in (as recommended by the CDC as of 3/25/2020).
-The CDC recommends wearing a cloth face covering in public settings where social distancing is difficult maintain (ex. grocery stores).
For more info, visit their site: https://www.cdc.gov/coronavirus/2019-ncov/prevent-getting-sick/diy-cloth-face-coverings.html
*Please take note that the colors may differ from screen to screen (may be darker/lighter)*
˚˚˚˚˚˚˚˚˚˚˚˚˚˚˚˚˚˚˚˚˚˚˚˚˚˚˚˚˚˚˚˚˚˚˚˚˚˚˚˚˚˚˚˚˚˚˚˚˚˚˚˚˚˚˚˚˚˚˚˚˚˚˚˚˚˚˚˚˚˚˚˚˚˚˚˚˚˚˚˚˚˚˚˚˚˚˚˚˚˚˚˚˚˚˚˚˚˚˚˚˚˚˚˚
*All artwork for the items I have presented in my shop is drawn by myself and are copyright ©nerdypaperco.  All images and products are for personal use only. 
˚˚˚˚˚˚˚˚˚˚˚˚˚˚˚˚˚˚˚˚˚˚˚˚˚˚˚˚˚˚˚˚˚˚˚˚˚˚˚˚˚˚˚˚˚˚˚˚˚˚˚˚˚˚˚˚˚˚˚˚˚˚˚˚˚˚˚˚˚˚˚˚˚˚˚˚˚˚˚˚˚˚˚˚˚˚˚˚˚˚˚˚˚˚˚˚˚˚˚˚˚˚˚˚
Follow me on my social media outlets for daily updates on new drawings and so much more!
☁  Facebook group 
☁ Instagram || @nerdypaperco
Processing time :
All orders are made to order by yours truly, I'm a one nerd operation!  Orders are sent out to their nerdy destinations within:
Current processing time is 7-12 business days*, unless otherwise noted under the product listing.  *Please note: during sale periods, such as the Black Friday or Group Sales, the processing period is extended to 10-15 

business days.
Shipping :
I ship all orders through USPS, unless noted otherwise.  
Domestic via USPS First Class Mail
International via USPS First Class Mail
Please double, triple, quadruple check your shipping address!  I ship to the address provided by you.  If the incorrect shipping address is provided, and your package is delivered to that address, it is unfortunately out of my hands and responsibility. 
International Shipping + Customs and Duty Charges
Please be mindful that transit times vary!  Packages occasionally do get held at customs, and however long they get held there is out of my control as they are now in the hands of your country's customs officials.
Buyers are responsible for any customs and import taxes that may apply. Note, that I have NO control over a country's customs and duty charges. Some countries will charge duty for international packages and others will not, and all at different rates! 


---